[i4w_onlyfor tagid='97']
[/i4w_onlyfor] [i4w_onlyfor tagid='113']
[/i4w_onlyfor] [i4w_onlyfor tagid='105']

[/i4w_onlyfor] [i4w_onlyfor tagid='109']

[/i4w_onlyfor] [i4w_members]

Circuit breakers
On the New York Stock Exchange (NYSE), one type of trading curb is referred to as a "circuit breaker." These limits were put in place after Black Monday in order to reduce market volatility and massive panic sell-offs, giving traders time to reconsider their transactions.
At the start of each quarter, the NYSE sets three circuit breaker levels at levels of 10%, 20%, and 30% of the average closing price of the Dow Jones Industrial Average for the month preceding the start of the quarter, rounded to the nearest 50-point interval. As of the second quarter of 2010, these levels are 1,050 points, 2,150 points, and 3,200 points respectively.[1] Depending on the point drop that happens and the time of day when it happens, different actions occur automatically: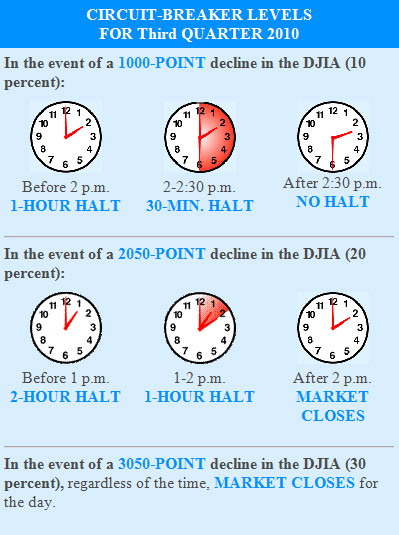 Trading curbs on Dow futures contracts traded on the Chicago Board of Trade are based on NYSE levels, with the exception that only the 10% threshold is in effect outside of regular NYSE trading hours, and is relative to the previous daily settlement price.
What is the new Single Stock Circuit Breaker Rule?
If an S&P 500 stock rises or falls 10% in a 5-minute time period, a market-wide trading pause will occur in the stock for at least 5 minutes. The pause would give the markets the opportunity to attract new trading interest in an affected stock, establish a reasonable market price, and resume trading in a fair and orderly fashion. Initially, these new rules would be in effect on a pilot basis through Dec. 10, 2010.1
Why has this rule been implemented?
In response to the market disruption of May 6, 2010, the Securities and Exchange Commission (SEC) sought public comment on proposed rules that would require the national securities exchanges and Financial Industry Regulatory Authority (FINRA) to pause trading in certain individual stocks if the price moves 10 percent or more in a five-minute period. The rules were proposed by the national securities exchanges and FINRA and have been approved by the SEC.1
Is this rule permanent?
The new rule will be in effect on a pilot basis through December 10, 2010.
Which securities are subject to this rule?
Initially, only stocks in the S&P 500 will participate in the pilot. The markets will use the pilot period to make appropriate adjustments to the parameters or operation of the circuit breaker as warranted based on their experience, and to expand the scope to securities beyond the S&P 500 (including ETFs) as soon as practicable.1
How are the underlying options of a halted stock affected?
Typically, when trading in a stock is in a regulatory halt, its options also stop trading during that period.
What happens if I have an open order when a stock goes into a trading pause?
Open orders will remain open during the trading pause, but will not be eligible for execution until the stock resumes trading.
Can I cancel my open orders and enter new ones during a trading pause?
Yes, you may submit cancel requests, change requests and place new orders during a trading pause.
NOTE from JG Savoldi: This could back-fire on regulators because short-sellers will have 5-minutes to enter sell orders on a stock they were not even short going into the 10% plunge.
Will the opening and closing print be subject to the 10% move threshold?
No, the markets will begin calculating the threshold move at 9:45 AM ET and cease calculating at 3:35 PM ET. For stocks re-opening after a trading pause, the calculation will start again immediately.2
How will a stock in a trading pause resume trading?
The primary listing market will reopen the stock at the end of the 5 minute pause, unless there is a significant order imbalance. If the primary market is unable to open the stock after 5 minutes for a reason other than an imbalance, that market will send notification that it will not reopen. After a 10 minute pause all markets can resume trading regardless if the primary market has re-opened or not.2
-JG Savoldi
The New York Stock Exchange, NYSE, is open from Monday through Friday 9:30 a.m. to 4:00 p.m. ET.
NYSE, NYSE Amex, NYSE Amex Options, NYSE Arca, NYSE Arca Options, NYSE Bonds and NYSE Liffe U.S. markets will observe the holidays below:

| | 2010 | 2011 |
| --- | --- | --- |
| New Year's Day | January 1 | ‾ |
| Martin Luther King, Jr. Day | January 18 | January 17 |
| Washington's Birthday/Presidents' Day | February 15 | February 21 |
| Good Friday | April 2 | April 22 |
| Memorial Day | May 31 | May 30 |
| Independence Day | July 5 (observed) | July 4 |
| Labor Day | September 6 | September 5 |
| Thanksgiving Day* | November 25 | November 24 |
| Christmas* | December 24 (observed) | December 26 (observed |
[/i4w_members]
[i4w_onlyfor tagid='105']

[/i4w_onlyfor]